Distributor sales reps can turn on or off text message and email notifications in their settings
Sales reps can easily manage the way they receive order notifications and daily order reports in their notification settings.
Turn on/off text and email notifications
Manage how your receive order notifications
When logged into your account, click Menu in the upper right-hand corner and select Notifications.
In your notification settings, navigate to Email or Phone to update notifications for the communication channel you would like to manage.
Toggle the button next to Daily Order Reports or Order Notifications to turn notifications on or off. The toggle is grey when notifications are off and green when the notification is turned on.
You can read more about Daily Order Report or Order Notification types below.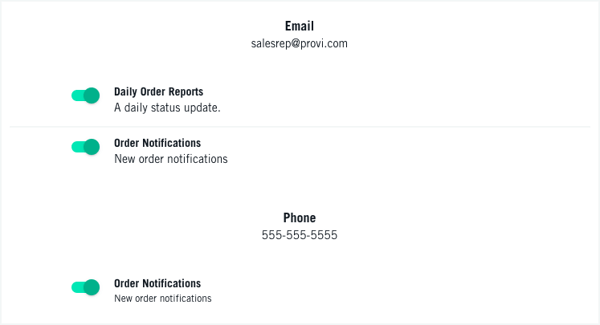 Daily Order Reports
The Daily Order Report notification can only be delivered via email and includes a summary of all the orders you received that day, as well as the status of the order.
Order Notifications
Order Notifications alert you when one of your customers sends a new order. These notifications include a link where you can view their order and take the appropriate actions. You must have at least Phone or Email turned on. The system will not allow you to turn off all Order Notifications alerts.