Sales reps can use the Onboard Retailer tool to create Provi accounts on behalf of their customers.
The more customers using Provi, the more efficient and organized you become! Easily create Provi accounts for all of your customer using our Onboard Retailer tool. When using this tool, your customer will be able to log in to Provi and send you their order right away.
Note
This tool is only available for sales reps who work for a Provi distributor partner. Please live chat with us if your company is a partner and you do not see Onboard Retailer as an option in your menu.
Look up the account
Search for the account's information in our database
Login to your Provi account and select Onboard Retailers at the top of the page.
Enter your customer's account number in the Retailer Account Number
field.
Click the Find Account button
If the customer is in our database then their information should auto-populate in the fields that appear. If not, you can still create the account by filling in the blank fields.

Create the account
Enter the necessary information to create the account.
Ensure that any field marked with and asterisk (*) is completed.
Attach the reps who call on the account by selecting the Add Reps button. If the wrong sales rep(s) were automatically attached to the account then select the Remove Rep button to remove them.
Once you have filled out all of the required information, select the Click to Submit button.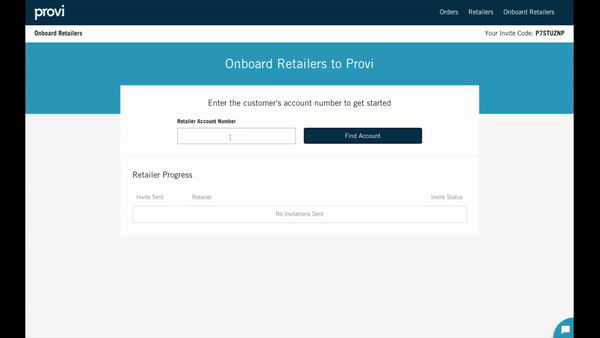 Contact the account
Congratulations! You've successfully set up your customer on Provi. They will receive the below email with their login credentials immediately. We recommend connecting with your customer to give them a heads up.

If you have any questions, please chat us by clicking the blue and white icon in the lower right corner of your screen!