Add your sales rep's contact information to send orders to all of your distributors
Streamline the process of ordering from all of your distributors by adding more of your sales reps to your Provi account.
Table of Contents
Search for the Distributor
You can add any sales rep from any distributor in your market to your account.
Login to your account
Click the Menu icon and select Distributor Reps
Search for the name of the distributor your sales rep works for in the Search Distributors search box, located under Available Distributors

Once the distributor is displayed, click the Add Reps button
Search for Your Rep
Search our database of crowdsourced sales reps in order to add existing reps to your account.
Use the Name, Phone or Email search fields to find your sales rep's information in our database.

If your sales rep is already in our database then it will populate in the section below the search fields.
Select the Add Rep button to add the rep to your account

Add a Sales Rep Who Is Missing From the Provi Database
If you searched for your sales rep and they didn't appear in our system then don't worry! You can add them yourself.
After searching by Name, Phone or Email, a dialog box will appear asking "Don't see your rep" if your rep is not available in the system.

Select Add Missing Rep to add their contact information to our database.
In the popup, type your sales reps Name, Phone Number and/or Email Address in the corresponding fields.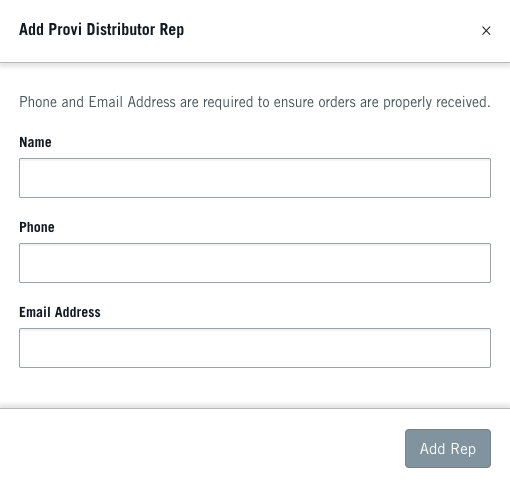 Once your rep's contact information has been entered, select Add Rep