Follow these simple steps to start ordering on Provi today!
Before You Get Started
Make sure you have the following on-hand, before you create your account:
Your state liquor license (disregard if you are a non alcoholic business)
The account numbers of your distributors (disregard if you know your distributor is not integrated with our platform)
The names and contact information of your sales reps
That's it!


Creating a Provi Login
Okay, now onto the good stuff. Once you've gathered the above info:
Navigate to app.Provi.com and select the option to create an account for Bars & Restaurants.
You will then be directed to enter your name, email, phone number and a password.
Caution
Avoid using landlines, as order updates are typically sent via text. Additionally, your password must be a minimum of 6 characters long.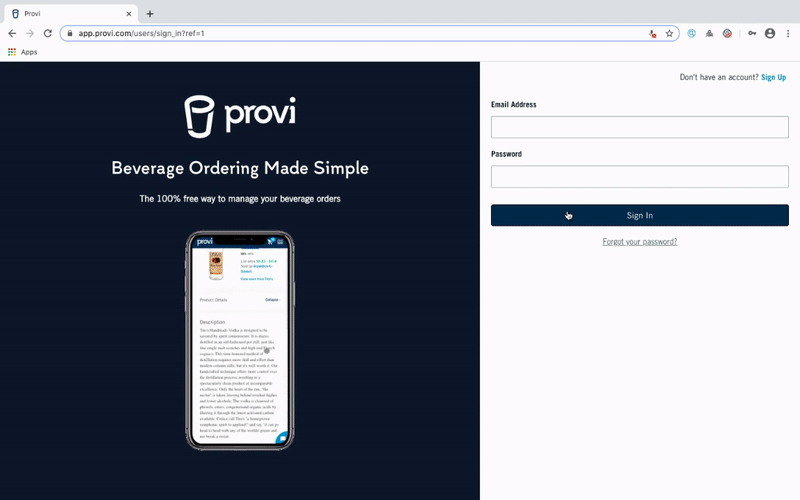 After you've entered your login credentials, you will be directed to fill in the name and address of your location, followed by your liquor license.
Note
If you do not have a license because you do not sell alcohol, you may opt out by selecting a "Create an alcohol free account" to bypass this page. Please note that if you create an alcohol free account you will not be able to view or order alcoholic beverages in Provi. If you don't have your liquor license handy, it's best to exit and log back in when you have that information. Your progress will be saved.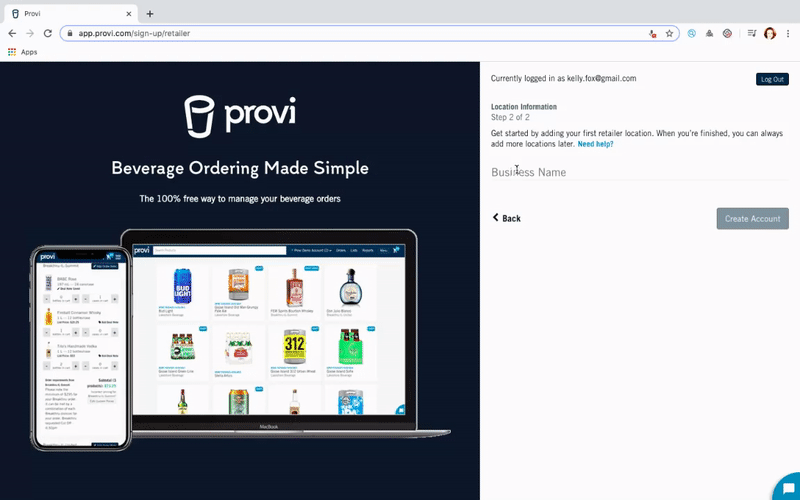 Entering Your Sales Reps
Before you can begin using Provi to seamlessly send your orders to your alcohol distributors, we need to know the account numbers and reps for every distributor that you use.
While you will be able to see and add items to your cart from a variety of distributors, you will only be able to order from the distributors that have account numbers and sales reps attached.
Click here for more information on adding your sales reps.