Refer to a recent invoice or call your distributor if you're not sure of your rep's contact information.
It's important to keep your Sales Rep information in Provi up to date so that we can send your orders to the right person who can confirm your order and ensure delivery. If you've ordered from a distributor before, the easiest way to identify your sales rep will be to check a past invoice. Your rep's contact information will be included on the invoice.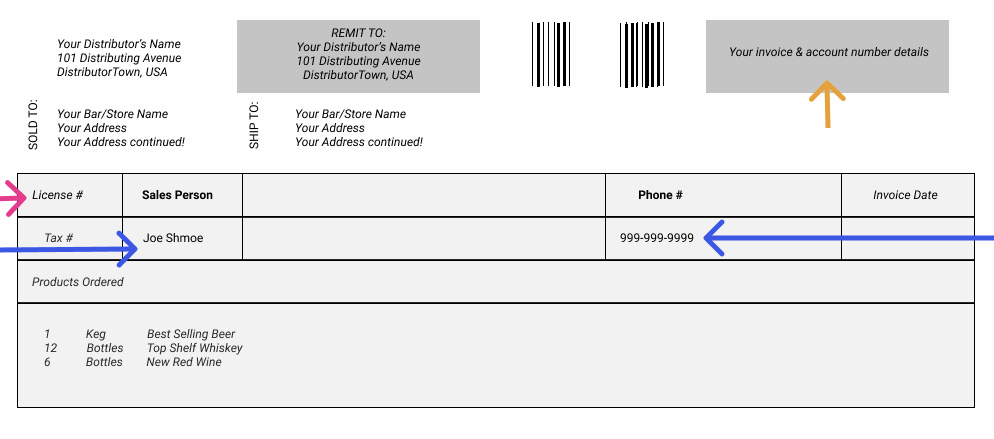 In the example invoice above, you can find the Sales Rep's contact information towards the top of the invoice (blue arrows).
If you're setting up your account for the very first time, you can also pull your account number with the distributor from your invoice (yellow arrow), which is used for first-time account configuration.
But we get it - you might not hold onto past invoices, or you may find a product from a distributor you haven't used before. Not to worry - finding your rep is easy.
The best way to find out who your sales rep is is by contacting the distributor directly. If you need help finding your distributor's contact information you can submit a ticket here and we can help find that for you.
Once you have your sales rep's information, you can add it to Provi to store for your records and future orders.
Alternatively, if you don't know your rep because you only order from customer service at this distributor, you can also choose "I order from customer service" and we will make sure your order gets to the right place. This option is available for most (but not all) distributors.
In some rare cases, your distributor may tell you that you don't have a specific rep: you can always request a sales rep. Having a specific, named, individual rep will allow you to connect with that person over ProviChat for samples, recommendations, and more - you deserve a rep!
If you have any questions regarding finding your sales rep, use the chatbox

in the lower right-hand corner and a Provi representative will assist you, or you can always submit a support ticket here.