Missing a delivery can be disastrous. Take these steps to ensure your orders are delivered successfully.
When you submit your order to Provi, we forward the order to your listed sales reps by both email and text. As long as you provided accurate contact information for your sales rep in Provi and they have not blocked Provi directly, they receive your order. Your distributor can then deliver the order as usual.
If order day comes and goes without a delivery, we recommend contacting your distributor immediately. Many distributors will accept same-day warehouse pickups. Our customer success team can also call your distributor on your behalf, but you may prefer to call directly in order to plan the logistics of a pick-up.
To prevent future missed deliveries, consider the following steps:
Check your sales rep's contact information
Most of the time that you connect a distributor sales rep to their account, you only need to search for their name. However, if your sales rep was not yet registered in Provi, you may have needed to enter their information manually on this screen: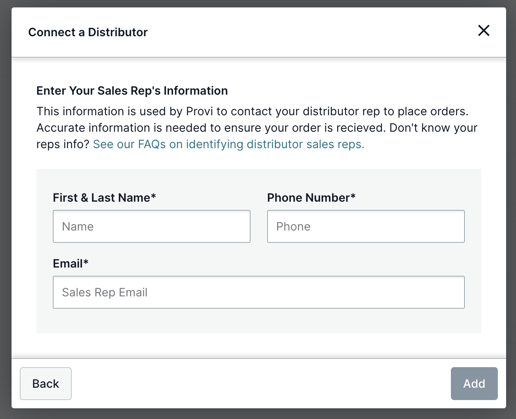 If the email or phone number data was entered incorrectly or if your rep has changed since you first connected the distributor, you will need to update your sales rep details. If you're not sure how to find accurate contact information for your sales rep, we can help. In some cases, you might not know you have a sales rep, or your distributor may tell you they haven't assigned you one. Call the distributor and request a sales rep assigned to your account, or at the very least, an email address where you can send your orders. This is the email address you'll want to enter into Provi.
Provi now has the option to choose a customer service order method for some distributors. To check if this is an option for your distributor, you can find the Distributor's name on the My Distributors page, then click Add Sales Reps."Check the button for "I order from customer service, not a sales rep."
If your rep says that they did not receive the order, but you are confident that the contact information you have listed in Provi is correct, it is possible, though very unlikely, that your rep has marked both Provi emails and Provi texts as spam and/or blocked Provi as a sender. Ask your rep to contact our support team for assistance in resolving this situation.
Review order status & contact your distributor
As long as the contact information you provided for your rep was correct, your distributor sales rep received the order by text and/or email. You can also review your Order History to confirm if your sales rep opened the order details from the text and/or email: the order status will display as "Seen" if the rep opened your order. If you ever experience a missed delivery, we recommend ensuring you are subscribed to order status updates for future orders.
There are a variety of reasons a delivery can go awry once the order is received, and the best way to get to the bottom of what happened is to go directly to your distributor. You can confirm your distributor's name and contact details through your order history, and you can text and email your sales reps via Provi Chat. If you prefer, you can also ask our support team to reach out to your distributor on your behalf to further track down the issue.
---
If you have any questions regarding about if your order wasn't delivered, use the chatbox

in the lower right-hand corner and a Provi representative will assist you, or you can submit a support ticket.