Customers in Texas can use ProviPay to pay their COD invoice through bank-to-bank (ACH) transactions directly on Provi
There are two ways that you can pay a COD invoice using ProviPay: click to pay and autopay
Cash on Delivery (Autopay)
If you are enrolled in autopay, your invoices will automatically be paid on the due date of the invoice. The status of the invoice will indicate "pending" on their invoices page when they have properly met COD expectations. For COD invoices, this will be the same day that you receive your delivery order and before the delivery arrives at your location, so you don't have to manually show the driver a pending or paid transaction. Any further changes to your order must be handled through a new invoice or credit. Credits that are created after the initial invoice was paid are eligible to be applied to any future invoices.
Cash on Delivery (Click-to-pay)
If you are not enrolled in autopay, you can still pay your COD invoices on Provi. When the delivery arrives (or as long as the invoice is present in Provi even if the delivery has not arrived yet), you can log into Provi, view the invoice, and pay it. When the delivery arrives, you will need to show the delivery driver the 6-digit payment confirmation number as proof of payment in order for it to qualify as "cash on delivery."
The driver will specifically need to verify the invoice number and that it has a 6-digit payment confirmation number on it. Here is what it looks like on desktop :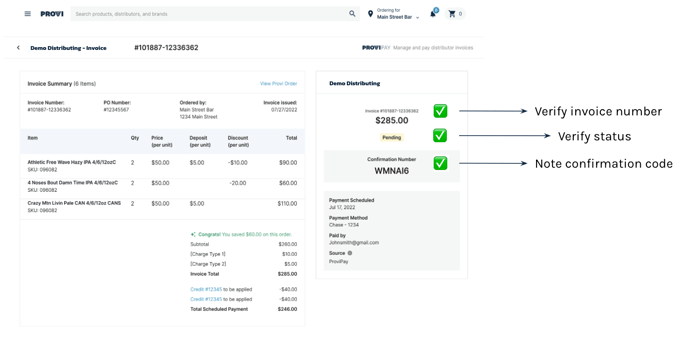 Enrolling in ProviPay
Given the time-sensitive nature of COD payments, you must have a verified bank account linked to ProviPay before being eligible to pay COD invoices. It can take up to 1 full business day to verify a bank account, so completing this step in advance is recommended.
To add a bank account, a retailer user with an admin role can follow the following steps:
Log into your Provi account

Click the menu icon in the top left corner. Select Payments.

On the left-side navigation, select "Payment Settings."

In the center of the screen, click the "Add Payment Method" button. A window will pop up powered by our third-party partner called Plaid.

In Plaid, you may link your bank account directly by searching for your institution and following the steps to verify your credentials. Provi does not store or have any way of accessing the information that you enter on this screen.

If you prefer to link with your bank account's routing and account numbers instead, scroll to the bottom of the Plaid popup window, and select "Link with account numbers" and follow the steps.

If your bank account is linked instantly, you may start paying invoices immediately.

If your bank account is linked by account numbers, you must return after 1 business day to verify the micro-deposits sent by Plaid before you can start paying invoices.