Everything to know about deals on Provi.
Some distributors post their deals on Provi so that you can more easily plan your orders. When the deal is posted on Provi, your cart subtotal will reflect the price after the deal has been applied.
You'll notice two types of deals posted for participating distributors:
Quantity deals: Redeemed based on ordering at least a minimum quantity of one specific product
Mix deals (also called "mix and match" or "assortment"): Combine a variety of eligible products to meet a minimum quantity
A few commonly asked questions about deals:
How do I know if there's a deal on a product?
Both types of deals are shown in Provi with a deal icon in the upper left corner. When you open the product's description page, you'll see more details about the deal.
How do I find deals?
You can find deals by searching for a product and filtering to only show products that are on deal. For example, you could enter something specific like "Jack Daniels" or something broader like "Whiskey" in the search bar at the top of Provi. If at least one product relevant to your search has a deal available, you will be able to use the deal filter in the left sidebar to narrow your search to only show products with deals.
If you do not see the deal filter option in your search, no relevant products in your market currently have a deal posted on Provi. There may be products with deals available that are not posted on Provi. In this case, your cart subtotal will not update to reflect the discount, but your sales rep can still apply the deal when they process your order.
How do I redeem a quantity deal?
The Deals tab of an eligible product's description page explains how much you will save, as well as the minimum quantity you need to purchase in order to qualify for the deal. Some deals can only be redeemed on specific size or packaging options, listed on the Deals tab.
Your cart also shows you:
If you didn't add enough of the product to your cart to qualify for the deal
If there's a higher discount available if you add a higher quantity of the product.
How do I redeem a mix deal?
Mix deals (also known as "Assortment" or "Mix & Match") allow you to combine any qualifying products to your order and receive a discount.
If the product you are looking at is eligible for a Mix deal, the Deals tab of an eligible product's description page will specify what product sizes and packaging options are eligible for the deal, as well as the dollar amount off per unit.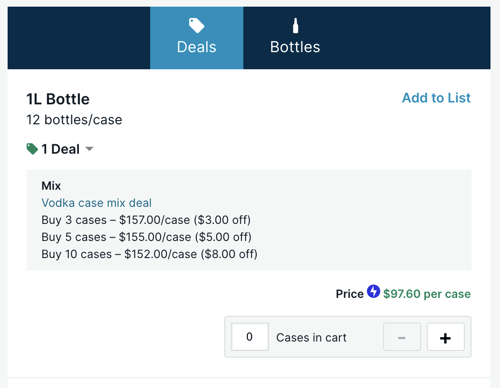 You can click on the deal name (identified under "Mix") to see every product included in the deal and shop directly from that list. This new page also shows you your current discount and if a greater discount is available.
Similarly, your cart will also display your Mix deals redeemed, total savings so far, and any additional available tiers of deals. If you decide to add more qualifying items before submitting your order, you can always click on the deal name to shop from all products included in the deal.
What happens when a product is eligible for multiple deals?
In this lucky case, all deals will be shown on the product's Deals tab and in your cart. Your distributor sales rep will provide final pricing and determine which deals can be applied to your invoice. Contact your distributor rep if you have any questions.
Why don't more deals show on Provi?
We're always expanding the number of distributors we are partnered with. We add more deals to Provi every month! However, don't forget - just because a deal isn't shown on the product doesn't mean you won't be able to redeem it. If your distributor has advertised a deal elsewhere, you can redeem that deal no matter how you submit your order. Your sales rep can process the details of the deal once they receive your qualifying order.
Can I add deals to Provi?
Although you don't need to document an unlisted deal in order to redeem it, you can always add deal notes to your order for your own record keeping.