Create Sell Sheets, send 'em to your accounts and watch the orders come in!
Creating digital Sell Sheets on Provi allow your accounts to order products directly from your recommendations, giving you the ability to track engagement and ROI.



Or, read on for a step-by-step guide:
Creating A Sell Sheet
Login to your Provi account.
In the navigation bar at the top of the webpage, click Sell Sheets.



From here you will be navigated to the Sell Sheets portal. This is where you will see an overview of all of the sell sheets you make going forward.
Click Create Sell Sheet.


You can now begin building out your Sell Sheet. Start by giving it a name and including some information about it under Sheet Info.



Adding Products To your Sell Sheet

Now for the fun part—adding products! To begin, click Add Products in the upper-right corner of the Sell Sheets modal.
From here, you can search for products by name, category, brand or SKU number.

Not sure what you're looking for? Click on the tabs for Beer, Wine, Spirits or Non-Alcoholic to browse from over thousands of products in your market.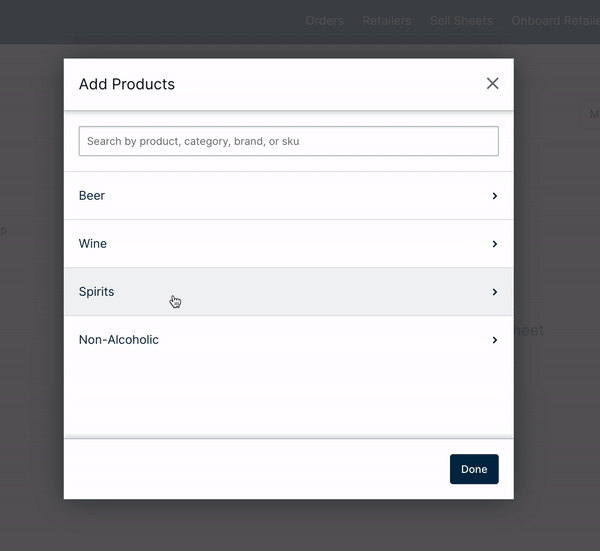 When you find a product you want to include in your Sell Sheet, simply click Add to Sheet and then click Done when you are finished. The product will be automatically added.
Tip: Save time by clicking Add to Sheet on multiple products!